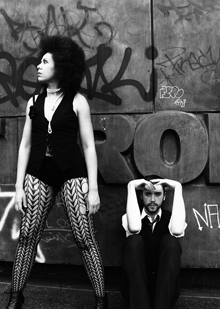 Their debut album Privilege Entails Responsibility (the English translation of the band name) was released in the U.K. in 2006. Its eclectic mix of disco punk, sixties French chanson and raw acoustic folklore combined with lyrical wit and dark humour proved an appealing combination among the London hipster crowds. Its first single releases Bitch and Daddy (Don't touch me there) quickly became indie club regulars throughout Europe.
Having re-located to Berlin in autumn 2006, Noblesse Oblige started working on the follow-up album In Exile, due to be released in autumn 2008 on RepoRecords.
Written and recorded in the band's own Neukölln music studio, the album is a journey through its writers' diverse musical tastes and styles, taking influences from gothic horror movies, African tribal tunes and contemporary pop music.
The songs are accompanied by tri-lingual lyrics that range from child-like nursery rhymes, over the bands ever present obsession with sex and death, to more sensual and dreamlike tales of unfound love and loneliness.
While the mixture of baroque harpsichords and disco beats on Tanz, Mephisto! underlines the band's camp club appeal, other songs evoke a more euphonic sound that, especially through Sebastian's tremolo guitar melodies, recall hints of a vintage movie score such as in French chanson Jalouse.
The soundtrack feel is a recurrent one in movie buffs Sebastian and Valerie's In Exile, most evidently in pseudo-70's b-flick theme Barracuda, over the Air-esque string arrangements of All or Nothing, to the hypnotic-oriental psychedelics on Shame. The nihilistic humour and wayward bizarreness of Privilege Entails Responsibility is still evident in Oi!-Punk closing track Under the Floorboard, tribal-esque electro pop of Hit the Bongo, and the Klezmer rock of Partners in Crime. With 4 A.M., Forbidden Time and Das Soldatenglück, Noblesse Oblige have delivered their most melodic and personal songs to date.
The bands flirtation with world music has come to a climax on In Exile. The use of bongos and Latin percussion, strings and brass arrangements to African Masai-tribe samples, combined with analogue electronics and classic guitar and piano instrumentation result in a timeless journey through the bands' influences in music history.
Having toured and performed with artists including Dresden Dolls, Vive La Fete and Patti Smith among others, Noblesse Oblige gained a notorious reputation for their wild and spectacular live shows. Taking turns in playing guitar, samplers, piano, keyboards and drums or melodica, Sebastian and Valerie blend edgy electronics with a raw live sound that captures the sleazy, ambiguous tension within the duos sensual performance.
From hipster nightclubs in Paris to S&M dungeons in Rome, back to warehouse raves and art galleries of East London, Noblesse Oblige have toured most of Europe and – since their 2007 tour of Brazil – beyond back and forth over the past 3 years, resulting in a steadily growing loyal fan base.
Closely linked to the art world through their regular appearances at international galleries and art institutes as well as Valerie's own background in theatre and live art performance, Noblesse Oblige count Turner prize winner Wolfgang Tillmans, Porn legend Rocco Siffredi and contemporary composer Michael Nyman among their fans, whilst the band's more danceable music has been supported by key club DJs such as Mark Moore (S'Express), Erol Alkan and Joost van Bellen.
Remaining members of Leigh Bowery's cult 80s band Minty asked Noblesse Oblige to re-record its underground hit Useless Man using Bowery's original vocal takes, which was included on the limited edition of Privilege Entails Responsibility's second single release Quel Genre de Garcon / Lil' Dirty.
Noblesse Oblige songs have been remixed by artists including Motor (Novamute), Mona Mur, En Esch (ex-KMFDM) and Musiccargo (Amontillado Music), and their music has been used in several film productions and music compilations as well as international catwalk shows. Their innovative artwork and photography is regularly seen in galleries and printed media, such as the cover of Lydia Lunch's collection of short stories.
For hip underground director Edwin Brienen's L'amour toujours, Sebastian and Valerie were asked to star alongside Austrian cult actor Erwin Leder (Das Boot).
N.O. also regularly appear as DJs in the club scenes of Berlin, London and Paris. Between 2005 and 2007 their own club night Caligula was a popular event in London and received positive press attention. It was regularly voted Critic's choice in London's Time Out magazine, following a range of successful events that introduced an impressive range of Live acts including Motor (Novamute), Pam Hogg, Cursor Miner (Lo Recordings), Comanechi and Tetine (Souljazz) to name a few.
Besides her work as half of Noblesse Oblige, Valerie is a successful theatre and performance artist who trained with Philippe Gaullier in London and has directed several theatre shows as well as art festival appearances around the world. Recently she has re-emerged in the Berlin art and performance scene as her alter ego Femme Façade.
Sebastian is a music producer with his own Berlin recording studio in which he has most recently worked with The Hidden Cameras and Birol Ünel among others.